Did you know most classroom management problems involve cell phones? Are you tired of asking students to put their phones away? You are not alone. Many teachers across the country are losing the battle of cell phones in their classes daily.
When we asked our students to pick the main reason why they failed our classes, most students select cell phones. Are you surprised?
Schools tried to improve students' grades with different intervention programs such as PBIS, MTSS, afterschool tutoring, PD for teachers, and many other costly programs. However, how many programs are successful?
When those programs fail to produce any measurable outcomes, school either blame on ineffective teachers, lazy students, careless parents, or unsupported administrators.
The underlining cause of most classsroom managment and academic problems in today's classrooms involved misuse of cellphone. Of course, those teachers who teach honor students or former teachers may argue that teachers should learn how to teach students to use responsibly. Think about it. Would you ask a drug addict to stop using drugs because it is unhealthy.
Pew Research Center's recent survey shows that "44 of teens often check their phones as soon as they wake up". Why? Teens are addicted to social media.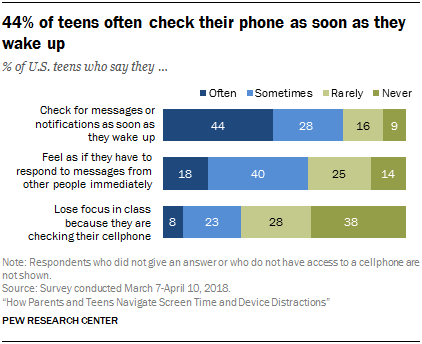 The survey shows 66% of teens do not lose focus in class because they are checking their cellphone. However, 58% feel as if they have to respond to messages from other people immediately. The two data are conflicting with each other. If students are not losing focus, why do they feel they have to respond to message from other people immediately. Not later, but it's immediately.
Teens are denying their own addiction as much as drug addicts or alcoholics saying they are not. The data from Pew Research Center below shows that girls feel more anxious, lonely, and upset when they do not have their cellphone. What do you think will happen when teachers take away a student's phone or ask students to put their phones away?
It quickly escalates into hostile arguments between a student and the teacher. At first, the teacher refer students to administrators. Over time, many administrators are tired of seeing students for cell phone-related problems, and they looked at the teachers to blame.
Make your lesson more engaging. Is your lesson engaging?
Did you call students' parents?
Did you talk to the students?
Did you differentiate your instruction?
What do you think those teachers will do when they see another kid using a cell phone?
How do COVID-19 and Distance Learning affect your students' addiction to cell phones?
The impact of distance learning and lockdown on children and adolescents' mental health will have a long-lasting effect on students' social-emotional and academic development. School closures and lockdown restrictions meant children had been physically isolated from their friends. Children have been forced to keep in touch via social media, which can harm children's development. Below are expected problems that current educators will face when our students return to in-person.
Increase/develop an addiction to cellphones and social media.
Increase cyberbullying among students.
All the challenges and many more new challenges will affect all students' learning outcomes:
Increase high failure rates among target students, especially 7-9th graders.
Increase discipline problems and conflicts among students
Increase suspension due to increase in severe disciplinary problems and school fights
Increase cellphone usages in class among students
Increase in students' dropouts
Widen achievement gaps
After more than five years of implementing different cellphone policies in my own classes, I had little success. Below are some of our trials and errors:
Posters of "No-cellphones" in my classroom and enforce it when I can.
Greet students at the door and remind students to put their phones away.
Confiscate students' phones
Ask students to put their phones in a drawer
Pencil Pouches with locks
Cellphone cages with locks
Calling parents
Refer to administrators
Organizers with charging USB (other teachers tried it, but it did not affect targeted students)
Extra credits
Class participation
School-wide bans policies
I invented Safe Pouch after the incident of Diego's death to empower today's educators like us to STOP cyberbullying in schools and create a Phone-FREE school.
After the tragic death of Diego in a nearby middle school (NBC News), I spent my Thanksgiving Break and Winter Break of 2019 to design and invent a solution to STOP cyberbullying in school and creating a phone-free school. As a high science teacher since 2011, I have witnessed the negative impacts of cell phones and social media on students' grades and behaviors. It is getting worse every day.
Safe Pouch lock students' phones inside and can are unlocked quickly and easily during an emergency. Safe Pouch allows students to answer calls or make calls during an emergency, lunchtime, or passing periods without removing their phones from Safe Pouch.
School also support Parents to use Safe Pouch at home as a powerful parenting tool and reduce screen time at home.
What are possible measurable benefits that you may observe at your schools when implementing Safe Pouch®?
Phone-Free schools
Reduce cyberbully and therefore reduce possible school fights
Increase students' engagements and learning
Increase student achievements for all students.
No more complaints from teachers about cellphone problems.
Empower administrators with a high-impact, easy, and immediate disciplinary tool
Save money. Because cellphone is the underlining cause of many problems. Solving it will also solve many other problems. Altogether, this will save your school a lot of money.
Most importantly, Safe Pouch is easy, affordable, and sustainable.
When we priced Safe Pouch, we make sure it is affordable, sustainable, and eco-friendly. There are NO ANNUAL LEASE FEE and HIDDEN FEE