Did you know most school fights involve cyberbullying or social media? Are you tired of seeing students recording students fighting instead of stopping it? Teens' addiction to cell phones is only a tiny part of the problem. Thier misuse of cell phones and social media is a growing social and health crisis in most schools.
When your school return to in-person instruction, misuse of cell phones and social media will lead to many other problems:
Cyberbullying
School fights
Depression and Anxiety
Drug ( mainly marijuana)
High Failure Rates among high-risk students.
Students use social media to promote and schedule school fights. During a school fight, the first thing that many students is pulling out their cellphones to record and put it on their social media. Students are excited about school fights as they crave for more attention on social media.
A recent victim is a 1″3-year old Diego Stolz, was beaten to death at Landmark Middle School on Sept. 16, 2019.
A bystander's cellphone video shows Diego being punched and then falling and hitting his head on a pillar in the schoolyard. He died nine days later from head trauma." (ABC News)
Could this be stopped? Would those bystanders step in to stop the fight if they were not too busy or too hyped recording videos?
According to Pew Research Center, "the most common type of harassment teens encounter online is name-calling. Some 42% of teens say they have been called offensive names online or via their cellphone. Additionally, about a third (32%) of teens say someone has spread false rumors about them on the internet, while smaller shares have had someone other than a parent constantly ask where they are, who they're with, or what they're doing (21%) or have been the target of physical threats online (16%)."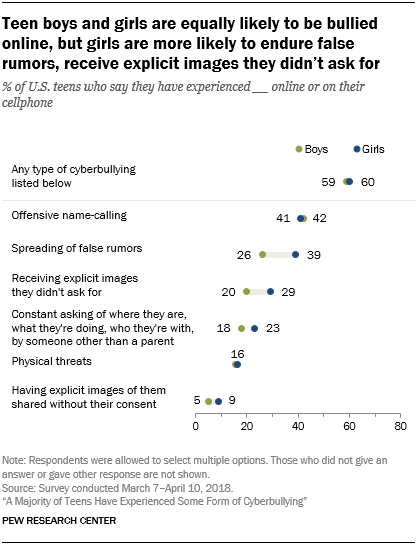 Pew Research Center shows girls are receiving a lot more explicit images. Worst, more girls "having explicit images of them shared without their consent".
Worst! Teachers, social media companies, and politicians are doing very little to address online harassment. As educators, we need to do more than just talking about it with Presentation slides, motivational speeches, or videos. We have to educate our children of today and tomorrow.
The issue of cyberbullying is growing concerns for today's parents. Almost 60% of parents worry about their children being "harassed or bullied online or sending or receiving explicit messages"
Win Elements Safe Pouch empowers today's educators with the tool to STOP cyberbullying in schools and create a Phone-FREE school.
Immediately after the tragedy of Diego, I spent his Thanksgiving Break and Winter Break of 2019 to design and invent a solution to STOP cyberbullying in school and creating a phone-free school. As a high science teacher since 2011, I have witnessed the negative impacts of cell phones and social media on students' grades and behaviors. It is getting worse every day.
Safe Pouch lock students' phones inside and can are unlocked quickly and easily during an emergency. Safe Pouch allows students to answer calls or make calls during an emergency, lunchtime, or passing periods without removing their phones from Safe Pouch.
School also support Parents to use Safe Pouch at home as a powerful parenting tool and reduce screen time at home.
Safe Pouch affordable, sustainable, and eco-friendly. There are NO ANNUAL LEASE FEE and HIDDEN FEE